We're spending a week with my family in Minnesota so I thought, hey! We should totally extend that to two weeks and camp ourselves silly on the way there and back.
How hard could it be to take the girls on a road trip by myself?
Sure, I've never hiked in the four years we've lived in the Blue Ridge Mountains, but those trails are tricky to find. But I do I have kickass hiking shoes. The right one got tons of use this summer when I needed it to balance out the Velcro boot on my broken left foot.
I think the first word most people would use to describe me is "hale." Sure, there was that bout with mono last fall. And yes, I spent part of our Disney vacation in the Celebration, Florida hospital after Harry Potter tried to kill me, but doesn't everyone have a funny story like that?
I've never towed a trailer, but my dad pulled one behind our station wagon for years so that probably rubbed off on me. I don't think I've ever successfully put up a tent either, but I'm kind of counting on Astrid to handle that.
I wanted to rent this super-cool pop-up camper called the Aliner. You can set that sucker up in like 60 seconds. But I kept not calling the place and not calling the place so when I finally called today, two weeks before our trip, can you believe that it wasn't available?
So I rented a tiny teardrop trailer instead. It's pretty much a queen bed on wheels. You can't stand up in it or anything, but it has this place in the trunkish area where you can pop a Coleman stove or just set your Happy Meals out in a line. I've never lit a propane stove but my grandma had this old oven you lit with a match and only one time did it sort of explode and melt my sister's argyle socks.
We can't all fit in the queen bed, but luckily the trailer comes with this tentish thing called the Side Mount Screen Room™ that you suction onto the door. I'm not sure if it has actual sides or if it's see-through but who cares? I'm comfortable with my aging body.
I'll need a hitch and it appears welding might be involved, which is no problem because my dad ran a welding supply company. I practically grew up with a blow torch in my hand. I mean, he never actually let me touch one, but sometimes he would let us suck helium out of a cylinder and make funny voices.
Come to think of it, I'm not completely sure I actually rented that trailer. I talked to the lady and she said to fill in the online form but when I filled it out I realized that my car insurance card expires on July 28, which is two days before I would need the camper. Matt wasn't home and I tried to get into the USAA site so many times to see why my card was expired even though they keep auto-taking my money that I locked us out of the account. So I just put the expired date down.
I hope she's not a hardass about current insurance.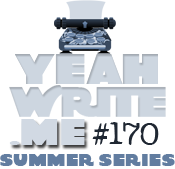 ---