To say our five-year-old daughter Akeyla has an active imagination would be an understatement. She lives in a world of rainbows, unicorns, fairies, and butterflies. Every day is costume day. If one tutu looks great, well, then three tutus, plus four headbands, plus a glittery scarf tied as a belt around her midsection? So much the better. Her fashion mantra is the opposite of Coco Chanel's "Before you leave the house, look in the mirror and remove one accessory."  Akeyla lives by the rule "More is more."
Here are two "looks" from Akeyla's wardrobe this week:
Her vivid inner life spills out not only in her unique sense of style, but also onto the page. Longtime readers of The Reedster Speaks may remember her drawing "Zombie Princess Beholds the Biggest Motherfucking Birthday Cake in the Land."
So it surprised us not when she came home from school the other day with this picture in hand. Yes, it's Princess Akeyla astride her fearless giant white cat as they head to the magic — I don't know, I'm going with a VW minibus. And by "magic", I mean "loaded with hallucinogens."
Sid and Marty Krofft, eat your hearts out.
************************************************************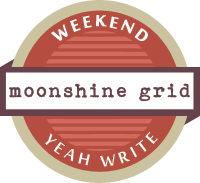 Did you know the yeah write weekly writing challenge hosts an unmoderated weekend Moonshine Grid linkup? While all the other bloggers drink nasty homemade swill from a garbage can out of keg cups, I feel superior with my non-alcoholic Fire Buchi.